There was so much Nifty News this week that a second round-up was necessary to catch up on the latest nonfungible token (NFT)-related news.
FLUF World and Snoop Dog partner for charity 
FLUF World, Beyond VR studio and Snoop Dogg teamed up to raised over $1 million via a one-day charity NFT auction on behalf of the Kiwi nonprofit organization Auckland City Mission.
Seven FLUF World NFTs were paired with seven limited-edition Snoop Dogg-themed Burrows designed by Beyond and sold on OpenSea. The partnership with the rapper included a 500 Snoop Dogg studio drop announced this past week. 
What. The. Fluf.

Over $1 Million NZD raised in just 12 hours in our @SnoopDogg Burrow & Fluf Auction for the @AKcitymission. We're blown away

Thanks to our partner @beyondvrgames, all who gave generously and everyone who tuned in to show their support.

We love you all ❤️ pic.twitter.com/0C1aYM3Vg5

— FLUF (@FLUF_World) January 20, 2022
Non-Fungible Labs, who own FLUF World first made a Christmas donation of $100,000 to Auckland City Mission last month. Just as Fluf avatars can find a home in Burrows in the metaverse, Aukland City Mission helps locals in need of housing.
Adidas Originals
Adidas Originals launches the 'adidas for Prada re-source' project in collaboration with digital artist Zach Lieberman on SuperRare. A majority of the proceeds from the NFT sales will be donated to Slow Factory, a non-profit organization and institute dedicated to improving sustainability and environmental literacy.
Adidas and Prada invite their communities to share anonymized photographs to the open-Metaverse NFT project. 3,000 community-sourced artworks will be chosen and minted as NFTs. Digital artist Zach Lieberman will then compile the images as tiles in a single mass-patchwork NFT design. Contributors will maintain full ownership rights over their individual NFT tiles.
Introducing adidas for @Prada re-source —an ambitious first-of-its-kind NFT project featuring user-generated and creator-owned art, in collaboration with digital artist @zachlieberman.

3,000 tiles, 1 canvas. Play.

Learn more at https://t.co/biHgWL4rQq#adidasforPradaNFT pic.twitter.com/bKBnmkWDWI

— adidas Originals (@adidasoriginals) January 20, 2022
UNICEF celebrates 75 years with NFT collection 
On the eve of UNICEF's 75th anniversary, the UN children's agency launched its largest 1,000 data-driven NFT collection in support of internet connectivity at schools. So far $740,000 has been raised.
The first 1,000 NFT pieces raised $550,000, and the pre-sale for a limited-edition piece and four others last week at a St. Moritz auction raised $140,000. UNICEF also secured an arrangement with secondary auction platforms to receive 20% royalty of all future sales, which brought in the additional $50,000 in one week, according to the organization. This royalty structure may allow UNICEF to continue raising funds for its Giga school-connectivity initiative via re-sales for years to come. 
WAX to airdrop 10M NFTs
WAX recently reached 11 million total wallets accounts on the WAX platform and decided to celebrate by airdropping a total of 10 million free NFT collectibles to the first 10 million wallet holders. This is the largest single NFT drop to date, according to the company, and will allegedly emit zero carbon emissions.
The free NFTs span 10 different digital pins, each marking a different moment in WAX's history. From its launch on Mainnet in 2019 to its WAX Cloud Wallet launches and its collaboration with AMC and Spiderman.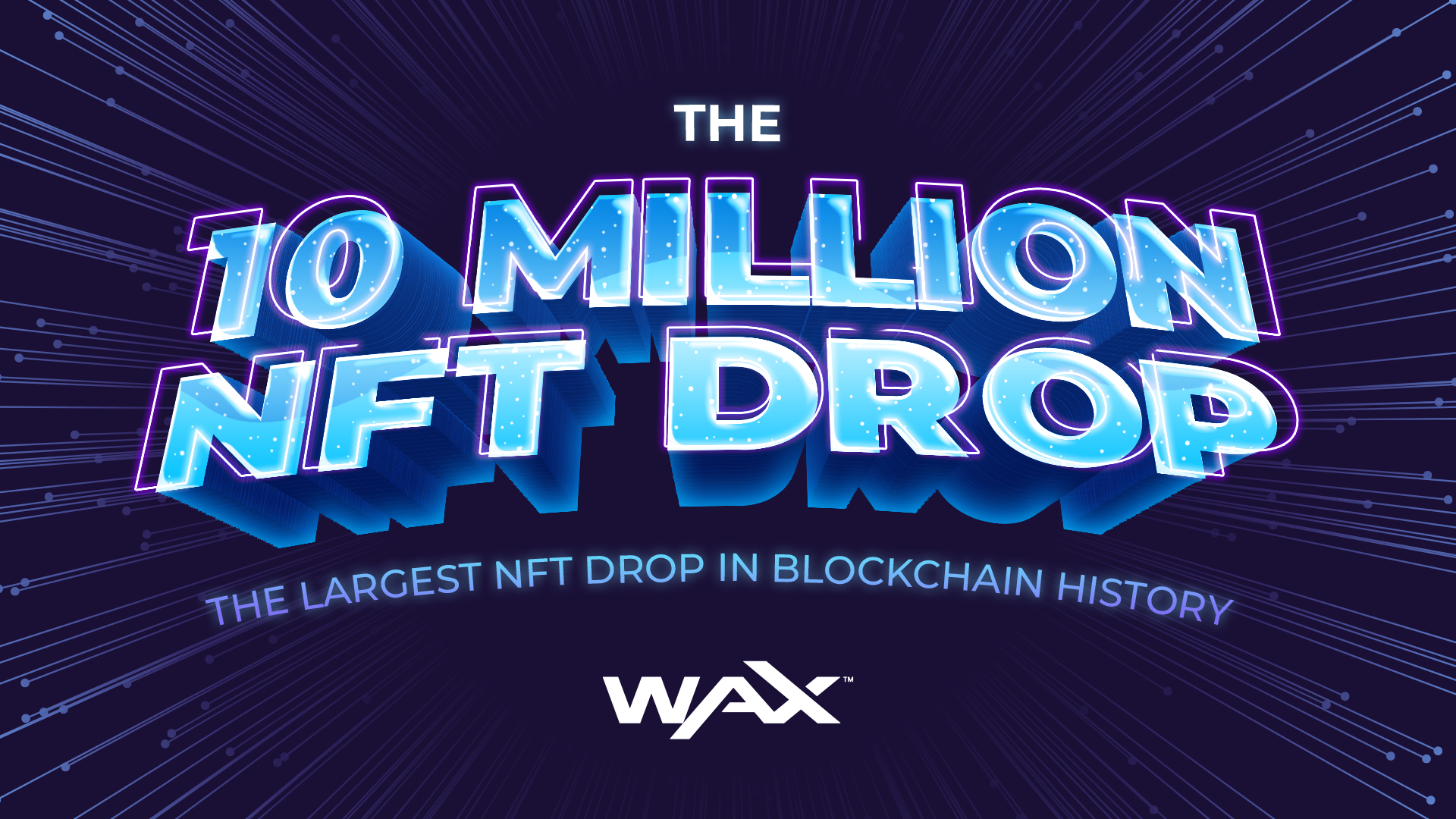 Other Nifty News
Social media networks made NFT headlines this week as well. Meta reportedly plans to integrate NFTs on Facebook and Instagram profiles to allow their users to display their NFTs. Meta may also be in discussion about launching an NFT marketplace.
Twitter, on the other hand, announced its rollout for NFT, hexagonal avatars. For now, only paid subscribers of Twitter Blue using iOS, which costs $2.99 per month, have access. Twitter users were quick to point out, however, that anybody can simply right-click-save any NFT from a Twitter profile, mint it, and then use it as their avatar.